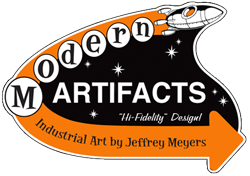 VINTAGE TRAILER SHOW
Join us at the Modernism Week for the Vintage Trailer Show – Find us at the Modern Artifacts Gallery Trailer selling our Industrial Art Signs, Fundamentals and all of our new cool Essentials.
This thoughtfully curated collection of vintage trailers, campers, buses and motor homes is arguably one of the largest and most attended vintage trailer shows in the United States. Year after year the Modernism Week Vintage Trailer Show continues to surprise and delight attendees with some of the most stunning, unique and rare vintage RV's.
Trailer owners and custom restoration craftsmen will be on hand Saturday, February 24th and Sunday, February 25th to meet the public and discuss their trailer's unique history and travels. The show will also have a fun mix of retail vendors whose products complement the vintage trailer lifestyle and will have you ready to hit the open road!