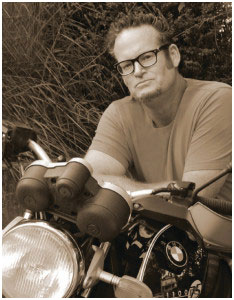 Jeffrey Meyers is an industrial artist with a deep interest in interpreting, recreating and even reinventing the past. His three-dimensional sculptures take the form of functional historic signs, lamps or just about any form of significant industrial design. His work is sought after by businesses and serious collectors all over the world, yet, Jeff works hard to ensure that his work is accessible to almost anyone.
All of Jeff's work is commissioned or kept to Limited Edition pieces that have a labored patina of rusty steel, bronze, hand-blown neon glass tubes, programmed LED's and when necessary, motorized moving elements. All of the pieces are handmade, designed and assembled in Portland, Oregon.
Jeff's work reflects his love of modern versions of old icons and is an interpretation of a bygone era. His work requires imagination, graphic design, metal forming, functional engineering, chemical aging and fine artistic details. You could describe Meyer's work as "historic, industrial, Pop Art". The work is so precise it often cannot be discerned from an original, decades old, design. Jeff has created or restyled real or fictional monuments that go back over 150 years and everything in between. He loves to create work that has personal meaning and memories for others.
"Growing up in Southern California in the late 60s and early 70s traveling with my parents along the endless highways and byways I was completely seduced by the old, yet once gleaming, road- side relics and signs that all but littered what was often sun-beaten, long forgotten landscapes. Desert motels, drive-ins, dilapidated gas stations and industrial architecture and design, fueled my imagination leaving me to dream about all the people whose lives and paths intertwined in all of these places. Seeing such images today still inspires me and transports me. It is my passion to recreate these icons for people.To be able to make something so authentic and personalized for others is truly a luxury. No matter your passion, I seek to create original designs for people, places, businesses, hotels, restaurants and even offices. I create an authentic connection to the past by building you a faithfully … Modern Artifact."
Thank you for your interest!
Jeff Meyers, Owner / Designer